The spreadsheet template is exclusive which is based on daily work report of the employees. The said report is required for any person who is self employed or performing work as an employee in a company. This helps in maintaining day-to-day work reports as well as generates them on daily basis to company records concerning all the works executed by you throughout working hours.
It is necessary to send report of demonstrating the truth of your work on day-to-day basis, ensuring that you are a responsible employee to your employer. It indicates that you have completed the works entrusted to you as well sending reporting on it devoid of any delay on a regular basis.
Daily work report means a list of work details performed in a day. Daily work report satisfy the Inquiry of supervisor, manager or employer regarding carried out work every day or not and creating a perfect way to keep tracing of the work done.
Working abilities is enhanced by means of submitting daily work report and make productivity higher at workplace.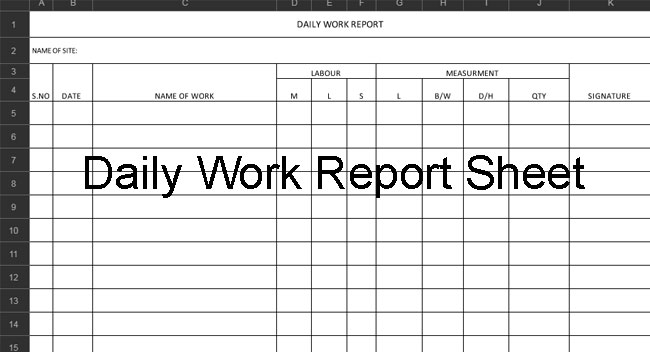 Download Excel Template for Daily Construction Work Report for FREE at:
http://bit.ly/2GfnYo6